Guess What. I just Won At Demon's Hex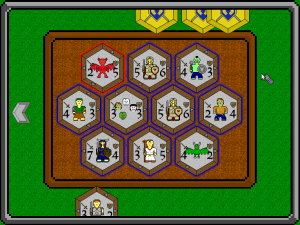 Exciting news everyone! I not only just played Demon's Hex, but I also won a few battles! This is big. This is the first time this game has been playable in any way, shape or form. Not only can you play it over on the product page, but you can also win!
There is still a lot of luck to the game though. You start off with a random selection of tokens, which may or may not be good. The enemy does as well and they may or may not be better than yours.
The enemy AI is still weak. It still just takes a random token from its hand and puts it in a random empty space, but it can be tricky though. Sometimes it can place a random good token in a random good spot and take your lead toward the end.
I am really getting excited about developing Demon's Hex. This is the most progress I have made in a while and I really look forward to expanding it and making it far better.
I hope you guys enjoy it. If you want to help out in development of the game, I am taking donations over on the right. Just click the Paypal "Donate" button. Any little bit helps. While you won't get any real perks right off, you will get the satisfaction of knowing that you are helping a budding indie dev grow.