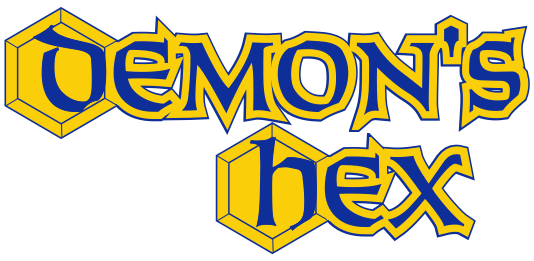 Welcome to the world of Demon's Hex. Within this game, you will take on the role of hero and protector of a world besieged by demons and monsters. It is your duty to travel the world and rid it of the demon plague. During this trial, you will gain new skills and tokens to help you defeat the evil that is corrupting your world.
This page will allow you to see the game as it develops. You will witness some early work-in-progress builds to help you see what the game has in store as well as see what we have planned next. We also have many pieces of art to show you further how the end game will look as well as feel.
Please enjoy.
Current Working Build
This is the current working build. Please feel free to click around. You can now access the battles from two locations. Right from the main menu you can click the "Random Battle" button and got right into the game. Also from the "Story Mode" there is a popout menu on the right and the top icon on that also takes you to the random battle.
At this point, there is an actual game. You can win/lose/draw now. There are even some basic states acknowledging that. The enemy AI is still poor. It simply places a random token in a random spot. However, there is a slight challenge because you never know what tokens you or the enemy might have.
Other features have been implemented including random starting player, walls that prevent attack between spaces and little random battles when two tokens with equal power go against each other.