Shattered Star: Prelude And Our August Goals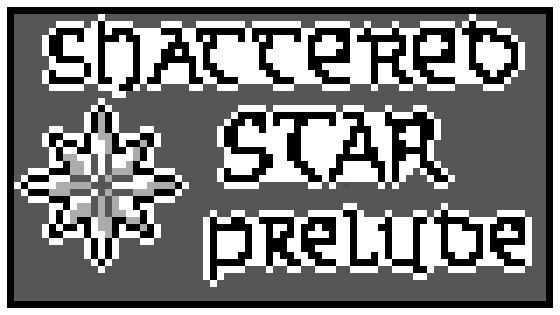 Hello everyone. We are sorry to have been away for so long. We have been working, at least as much as we can. While things are slow going, we are planning some great things in the near future.
First off, We want to assure you that we are working on our our primary game and have finally decided on a name. Charnette will star as the heroine in Shattered Star. We really like this name and find that the title describes a core aspect of our game really well.
We would also like to announce that we are working on a prequel of sorts, more of a prelude really. Shattered Star: Prelude is the story of Charnette's ancestor who defeated the evil wizard and shattered the original gem which gave the wizard his power. This shattered gem is what gives the evil demons of Charnette's world their powers.
SS:P is going to be a simple game. It takes place in a single castle with 4 generals and the evil wizard king that the hero must defeat. We have been working on the design of this castle and some of the bosses and monsters recently. We thought we would show you the initial design and layout of the castle.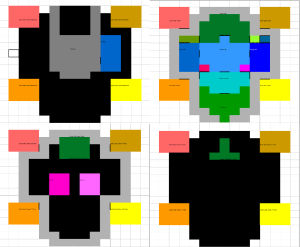 As you can see, there are three floors and a basement. There are also four towers. Each tower houses one of the four generals and the rest of the castle will have a number secrets to explore.
We have already started preliminary design of the castle. Each colored section is a separate level map. Below you can see the first area of the castle, the courtyard.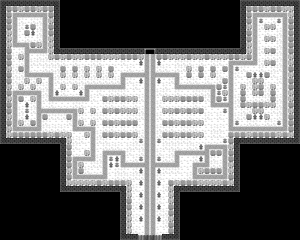 You can also see that this castle is going to be a lot larger than the map of DK Adventure. You can see that one below. The courtyard is over twice as large as the whole of DK Adventure.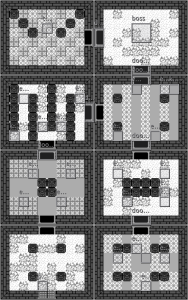 As for what you can expect of us this month, we plan on getting the preliminary design of all rooms of the castle done by the end of the month. We will also strive to have one boss and a few monsters animated. If we can, we will try to get that boss and the player in the game and interacting.
We also plan on taking part in this month's Game Boy Jam. This is a 10 day event to make a game styled after the old school Game Boy. Since SS:P is going to be done in the style of the Game Boy, We thought this would be a fun exercise.
So there you have it. Some news, some plans and some cool stuff coming your way. We will be keeping you posted. We will be posting more regular updates here, on Twitter, on Facebook and Google+. We will also have a screenshot every Saturday. So keep and eye out.