Announcing The Simple Game Site Builder

It has been a long time everyone. I have been working on a few things over the last few months, and I am finally ready to announce one of them. So here goes. Announcing the Simple Game Site Builder. This simple tool will help you get a clean and professional looking game site up and running in a matter of minutes.
A couple of weeks ago, I read a great article by Justin Carroll about the need to have a clean and well structured site to sell your game. Inspired by this article, I set out to make an easy to use tool that will give you a great looking site to sell your game. All you have to do is update the included game_info.xml file, put your images into the images directory, upload everything to your web server and the site takes care of itself.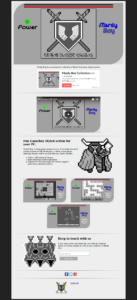 There are some great features for this too.
Use either a link to the location you are selling your game, or use the embed code from your store of choice.
Include your trailer from whatever site is hosting it using their embed code.
Display any number of images and features.
Build a subscriber list for your company by including code from services like Mail Chimp.
Point people to all your social media locations.
Easy linking to your presskit()
Include analytics tracking code.
We have also made the Simple Game Site Builder available to you under the MIT license for open source software. You can use and modify this code for any need you have. We have also made the code available on Github. If you want to contribute to the project, you can do so there. You can also see this tool in action over at the ManlyBoy site.