March Into The Dungeons In March's Board Game Quest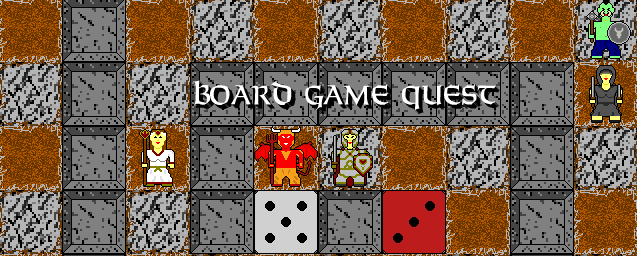 March was a fun month for me. After spending 2 and a half weeks just trying to come up with an idea for a game, I finally got around to making it.
Back in February, I wanted to make a board game but ended up doing something different. The game I wanted to make needed to be timely for a specific event but wasn't going to be finished in time. So I put it off.
So in March, I decided to scratch my board game itch with a slightly different board game. And thus Board Game Quest was born.
I was inspired to make this particular game after the Lego Heroica line of board games. I own all but one set of that particular game and my son and I love to play them. I think it is a great game and very much would like to make something along those lines as a video game. So this is my first prototype to that end.
The game was a lot easier to make than I had originally expected. Designing the board wasn't bad at all as it is a simple spiral to the center. I could easily add more to it by expanding the size of the board to be larger than the game resolution. The hardest part of the game board was trying to design board elements that meshed together well. I went through various iterations of walls and spaces until I reach the set you see above. It turned out to be a lot more "brown and grey" than I really wanted, but it was the best I could make.
The characters and monsters were mostly chosen at random. I had no preconceived ideas of what I would do with them once they were put in the game. I just wanted to add variety. But lucky for me, as development advanced, I was able to use the character sprites to add mechanics variety to the game as well.
Once I had the very basics of the game down, I wanted to explore adding abilities to the characters to make them more unique and make choosing them to be an actually thought out choice. So I took the 4 character types I had and the four main aspects of the gameplay and came up with their individual traits.
While these individual traits are not too amazing in a single player match of the game, as I expand the concept and introduce multiplayer, they will become far more important. In a multiplayer match, the goal would be to reach the end and beat the end boss before the others. Which character you choose would help toward that end.
There are a few things I really want to change as I go forward with this concept. The first being the spawning of monsters. Right now, they just appear at random and disappear whether you beat them or not. As I develop out the concept of the game, I would like to leave spawned monsters in place until one player defeats them.
As the game board increases in size, I would also like to add a bit of a random encounter element. So not every move results in a monster, but perhaps only a chance to run into one. As you reach nearer your goal, the greater the chance of one spawning in front of you.
Another aspect I will consider changing is the potions. Right now, it is a single potion, or two in the case of the priest. This is fine in a single player game, but I think it would not work very well for multiplayer. I think a better system would be to replace the potion with a "rest" mechanic. With this, the player can choose to rest instead of move for a turn. Doing so would allow them to recover 1hp. This would allow the player to decide if they want to try moving forward and gaining an advantage over the other players or to rest and live to fight another day. I would change the priest's ability from 2 potions to recovering 2hp.
One other issue that I have not decided on a proper solution to is the Paladin's ability. The problem isn't the ability itself, but its interaction with the final fight of the game. If the player attacks the final boss but loses, they are typically sent back a space and then must roll to move then attack again. The Paladin doesn't move however and it feels a bit annoying to have to make a movement roll then attack. I guess the same could be said of other characters as well as any roll from one space away is going to pit you against the boss. But that can be a problem for another day.
Overall, I found developing this game to be a fun challenge. It is unique from all other games I have made and has a whole lot of potential. It could be the start of a path that leads to a tactical RPG, something I have wanted to make for a long time.
One final lesson, I would like to share. I really need to begin work on these earlier in the month. I waste a lot of time in the first 2-3 weeks and it cuts into the time I could be using to make these changes I always write about. Had I started work on this a week or two before I did, It could be a full multiplayer board game right now. That would be awesome. However, now that I have this prototype together, that could still happen and it will be great.